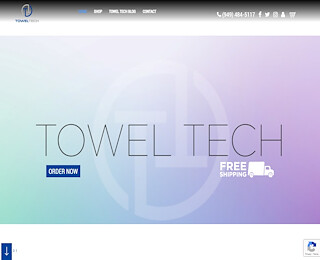 When preparing for a gym session, you need to make sure you pack all the things you couldn't go without, including a must-have fitness towel. At Towel Tech, we have created one of the most advanced workout towels on the market.
Why do you need a towel at the gym?
The most obvious reason is that you need something to wipe out the sweat. Intense workout sessions will cause you to sweat profusely. It will not only affect you but those around you as well, since you will get to pass your bodily fluids on all the gym equipment you touch or sit on. A towel will come in handy not just for wiping yourself, but use it as a cover for when you need to lay down on a bench or come into contact with other pieces of gym equipment.
What most people don't realize is that towels are also useful in protecting against fungi and bacteria, which often crowd the wet and warm gym environments. Naturally, some towels will offer better protection than others, and ours is the best in the business. The trademark TENCEL fiber is incredibly resilient to any type of bacteria, as well as odor, compared to any other product you might find. It will keep you safe, and it will protect everyone else in the gym as well.
What are sports towels?
They are high-tech pieces, meant to protect and provide extra comfort, compared to regular towels. Our fitness towel offers a variety of advantages and technologies, including:
Anti-odor and antiperspirant – While all towels are designed to absorb humidity, few do it as effective as our product. The TENCEL fiber will both absorb water and inhibit unpleasant smells, creating a safer, more comfortable workout environment.
Flawless adherence – Now you no longer need to worry about your towel falling off of the gym equipment and collecting all the bacteria and the dirt off the floor. Our product comes with a magnet incorporated in the material, allowing you to attach it to any metal surface you need.
Increased functionality – Our gym towel comes with two-colored sides, so you can differentiate between the side that goes on the equipment and the one you'll use for your face. We have also added a zipper pocket into our towel's design, in case you need to keep your phone with you permanently, along with any other necessary belongings.
Should I bring a towel to the gym?
Yes, you absolutely should. Some gyms have towel services, but you shouldn't rely on that. Take one of your own, and make sure to grab a fitness towel that comes with as many features as possible. It must be anti-bacterial, effective at absorbing humidity, fast-drying, and comfortable.
You will use it to keep both yourself and the equipment dry, as you should wipe the surfaces you touch before leaving the equipment that you've been using. If you're looking for the ideal gym towel, contact us, at Towel Tech, and grab your own high-tech piece that will make your life a whole lot easier.