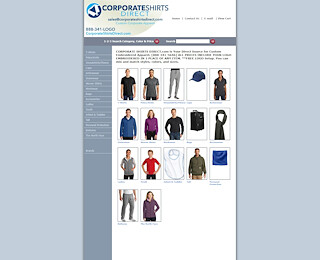 Customized polo shirts can provide your employees with the professional look you want while offering them the comfort they'll truly appreciate. If you've been considering business casual in your office or workplace, take a look at Corporate Shirts Direct. They not only carry all the top brands but they'll customize your polo shirts with free logo setup, no embroidery charges for your logo and offer their shirts with no minimum order.
Your workers will appreciate wearing business casual while going about their work day and will be proud to display your company logo, message or infographic. Many business owners and managers have already discovered the benefits that come from allowing their employees to maintain their professional look without having to wear traditional business attire. Some of these benefits include:
- Employees that wear business casual customized polo shirts to work actually look forward to going to work, in contract to employees who dread having to dress up in a shirt, tie and business jacket, or blazer and slacks as the case may be. It's only natural that employees who are happy about going to work will give better performance on the job and think higher of the company in general.
- Company managers can build a better team when their workers are wearing similar attire. You may even find that some of your employees who were reluctant in the past to work with certain people will be more willing to do so and feel more like everyone is on the same team. Positive work relationships have the power to strengthen your team and promote a better level of productivity.
- When employees feel as though the management over them is not trying to control them, is interested in them personally, is able to keep up with modern times, is flexible in nature and is more apt to treat all employees the same, they are much more likely to speak higher of the company and work harder while on the clock. Employees of all income ranges are able to dress for success with customized polo shirts.
If you're thinking about giving your business a new look but are concerned with making the right change, consider quality customized polo shirts from Corporate Shirts Direct. They look great for everyday duty around the office building, at business expos, trade shows and are even exceptional for branding away from the workplace. Establishing your corporate identity is key to ensuring that your community knows who you are and what you do locally. 
If you're looking for a great giveaway during corporate events, think about customized logo hats that will prove to be one of the best investments you'll ever make. Corporate Shirts Direct gives new meaning to promotional products that go far in helping businesses establish a local presence.
Take a closer look at the affordable and professional customized polo shirts available at CorporateShirtsDirect.com where you'll find the best online selection of business casual attire at the best prices anywhere. 
Customized Polo Shirts